January 21, 2011
Continuing in my series of keyboard repair blogs, I recently bailed an old Roland PC-200 keyboard out of storage. This old guy is just a 4 octave MIDI controller (no sound generator), but it fit the bill for having a reasonably sized polyphonic keyboard for a NYC apartment. Unfortunately it had long ago developed a…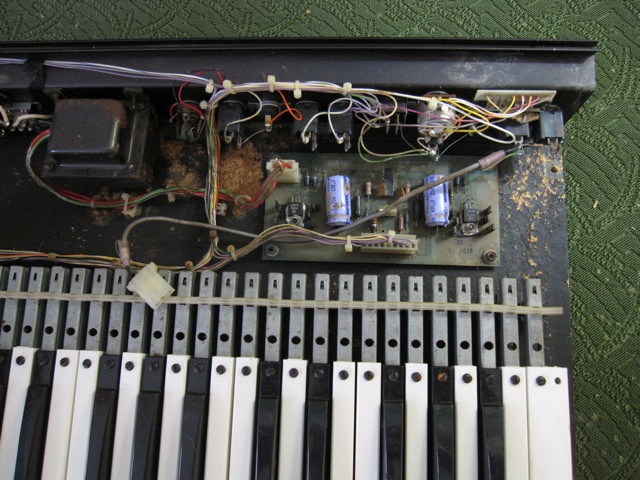 December 13, 2010
Some time back, I acquired a Micromoog analog, monophonic synth. These little beasts are a single oscillator synth, but include a sub-oscillator, 24dB/Oct filter, good modulation, ribbon pitch bend and CV interfacing. The clincher was one appeared cheap on Ebay advertised as requiring "Tender Loving Care": the wooden base needed replacing, but that it did…
November 10, 2010
A friend who has returned to studies, and therefore low on cash, had bought a second hand PowerMac G4 Mirror Drive Door model. After a good many years of service with the previous owner, and a year with him, the G4's power supply died, as that model is inclined to do. Repairing the powersupply is…
August 16, 2010
With the Australian federal election impending, once again it's time to ignore the personality contest and concentrate on reviewing the policies of the various contenders in your electorate. Reading some of the news comments by non-Australians reveals little is known about preferential voting and it's value to creating Australia's stable political system. While this article…
June 13, 2009
I've been experimenting with panoramic photographs on and off for several years. I've now posted a set shot many years ago now, in NYC and India, using a Kiwi panoramic head and a Kodak DC240.
February 19, 2009
Examples of pitch bend tracking on Axon guitar synths: Axon bends and Axon_detuned.
December 21, 2008
Many moons ago, I used to own an Ensoniq Mirage sampling keyboard. There are still a number of people using the Mirage, so here is a source of info for those souls still enjoying the 2 LED interface… These samples and downloads originally came from the Music Software Exchange, which retailed (for nominal shipping fee)…
November 20, 2006
The Geekcorps is a volunteer project to transfer technical knowledge into the third world, typically Africa. Courtesy of Jordan, they've updated the old trick of building unidirectional WiFi antennae out of Pringles cans into a method of supplying local video broadcasting, dubbed the CanTV.
September 14, 2006
The excellent weekly news program Dateline, on Australian SBS television has a cracker of a story about the U.S. car company General Motors killing the electric car. For a country like Australia with abundant daily sunshine, it's a no-brainer. The follow up story on electronic rental bicycles in Lyon also resonates now that I'm enjoying…
February 4, 2006
I've been following the press releases of Australian Greens Senator from Tasmania, Dr. Bob Brown for some time. I was delighted to find he is now podcasting, calling in on his mobile phone about his position on issues, called, appropriately enough, Bobcasting. You can find his links also on the iTunes podcast directory.