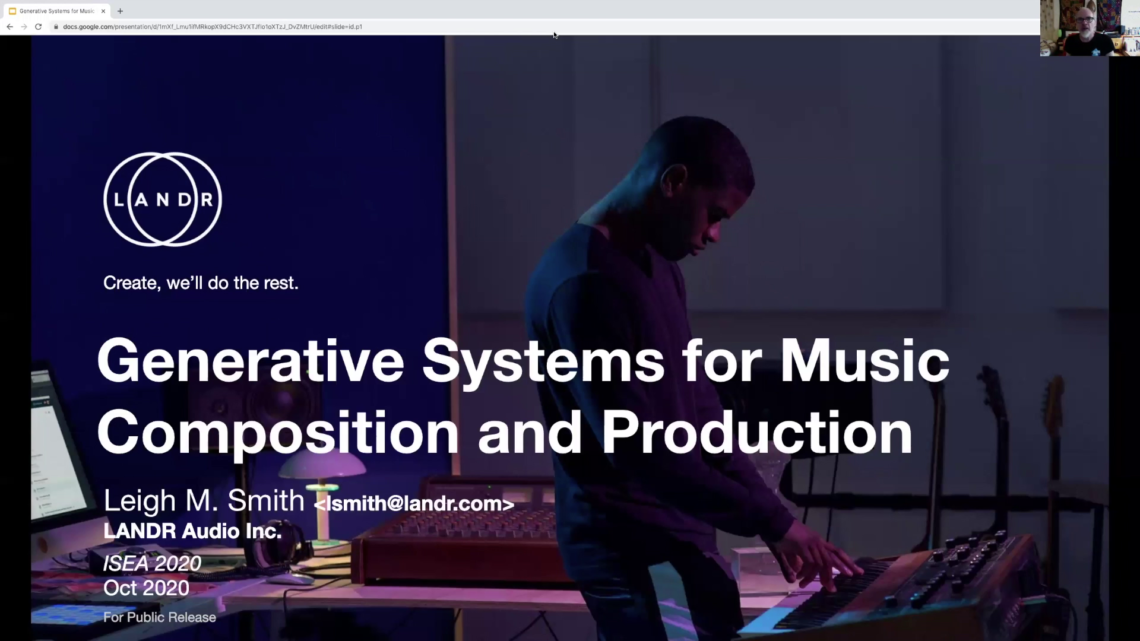 January 13, 2021
In October, under lockdown, the International Symposium on Electronic Art 2020 was held virtually. I participated on a panel considering issues of AI and creative practice, discussing my experience in creating AI systems for commercial music production. The video of the whole panel discussion is definitely worth watching, with me as last speaker at 37:44…
July 30, 2018
My documentation of art exhibitions that I have created or collaborated on. Exhibition of Photography at the Roxy Bar Diesel Denim Gallery
July 26, 2018
Exhibition of a real-time video installation "The Retail Experiment" at Diesel Denim gallery, SoHo, New York City from December 5th, 2002 to January 26th, 2003. Collaborated with Tronic Studio, Sebastien Agnessens and Duggal Interactive. Customers signing-in to a mock ATM were photographed and their image projected into a sequence of moving images of people becoming…
July 24, 2018
Exhibition December 1st – 30th, 2001 of photographic work shown at the Roxy Bar, Brooklyn, New York.
June 13, 2009
I've been experimenting with panoramic photographs on and off for several years. I've now posted a set shot many years ago now, in NYC and India, using a Kiwi panoramic head and a Kodak DC240.
September 13, 2006
Banksy hits Disneyland. Courtesy of Brett. Actually Aussie John Saffran pulled a similar stunt at Disneyland many years ago, planting a fake caption under a photo of Walt, noting his anti-semitism.
October 25, 2004
An engaging animation with commentary on the rising U.S. war machine. The message is a little simplistic for my tastes but makes for some great art.
September 28, 2004
The mealy-mouthed self-censorship of Hollywood is legendary, particularly the Hayes code preventing anything approaching realistic depictions of a variety of adult behaviour. An entertaining description is provided by experimental filmmaker Kenneth Anger in Hollywood Bablyon. More frightening is the degree of censorship exercised by the U.S. military in controlling the depiction of U.S. military (and…
September 28, 2004
The anti-corporate Adbusters group has started an initiative to produce vegan, hemp sneakers which are produced with fair labour conditions. The shoes have a look similar to Converse (which I wear, buying them prior to them going bankrupt and being bought by the sweatshop baron Nike). Each pair purchased buys shares in the fair trading…
September 16, 2004
The Missile Dick Chicks have begun reporting from the road on their tour of Ohio, Tennessee, North Carolina and Washington. Aiming to sing and dance dubya ("W = War!") back into office with such delightful ditties as "Shop in Name of War" and "These Bombs Were Made For Dropping", these Patriot missile equipped ladies from…